Clean Vehicles Wizard, a tool for managing and reporting vehicles CO2 emissions
This wizard provides a city, company, organization, or consultant with an overall view of vehicle fleet emissions. Enter vehicles into the tool to get vehicle emissions data easily and quickly.
Use vehicle data to
Analyze, Manage and report CO2 emissions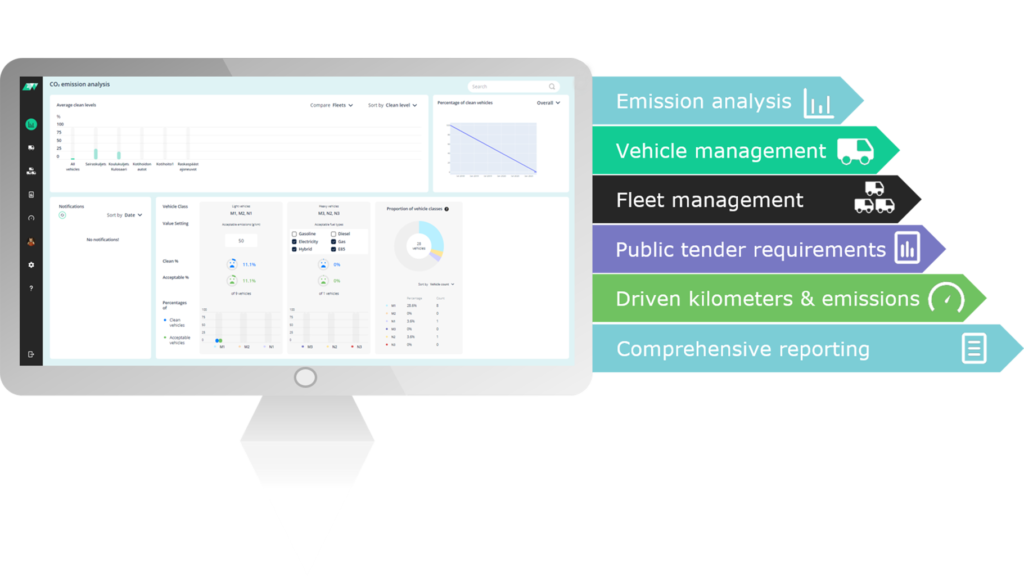 A database of more than 6.5 million vehicles ensures that vehicle emissions data will be awesome.
Clean Vehicles Wizard is a Finnish innovation. Its idea is based on the Clean Vehicles Directive (link to the directive) and has been developed together with the pilot municipalities and the Association of Finnish Municipalities (link to case text). Pilots are currently underway in Germany as well.
Try the free version of CVW with limited functions
Register here
The difference between free and full version of CVW
What can I use CVW for?
Do a check-up for your vehicle fleet and find the problem areas, such as vehicles with high emissions and utilization
Get emission analysis and follow your vehicles emission levels
Group vehicles and track their average emissions
Generate emission reports for example from vehicles, groups, or miles driven
Monitor compliance with the requirements of the EU Clean Vehicles Directive and report the development
Create vehicle requirements for future purchases and procurements or offer vehicles with emission values
Plan your fleet renewal wisely and create scenario calculations
Interested in CVW full version? Book a demo!
TÄSTÄ ALASPÄIN POIS
Emission analysis
Shows the emission values of the user's vehicles
Provides ways to compare stocks
Percentage of clean vehicles
Percentage of vehicles approved
"Acceptable emission level" (g / km)
Vehicle managements
• 6.5 million vehicle database
• Vehicle emission data
• All important vehicle information
• Adding and removing vehicles

Fleets
– The vehicles can be grouped in any way that suits your needs
– Groups and tags can be viewed and edited
for example, groups of subcontractors and vehicle use tags may be used
– Calculated emissions for all groups
Emission data for vehicles based on the clean vehicles directive
Vehicle requirements and offering
Ajoneuvojen km syöttö ja raportointi
Raportointi
Mihin voit käyttää CVW:tä?
Tee "lääkärintarkastus" ajoneuvokantaan ja löydä kaluston ongelmakohdat, kuten ajoneuvot, joiden päästöarvot ja käyttöaste ovat korkeat
Ryhmittele ajoneuvot ja seuraa niiden keskimääräisiä päästöjä
Luo raportteja esimerkiksi ajoneuvojen, ryhmien tai ajettujen kilometrien päästöistä
Seuraa, kuinka EU:n puhtaiden ajoneuvojen direktiivin asettamat vaatimukset täyttyvät ja raportoi kehitys
Kokoa ajoneuvovaatimuksia tuleviin hankintoihin tai tarjoa ajoneuvoja päästöt huomioiden.
Suunnittele kaluston uusiminen järkevästi ja laadi skenaariolaskelmia
Yli 6,5miljoonan ajoneuvon tietokanta varmistaa ajoneuvojen päästötietojen löytymisen.
Clean Vehicles Wizard on suomalainen innovaatio. Sen idea on lähtenyt puhtaiden ajoneuvojen direktiivistä(linkki direktiiviin) ja sitä on kehitetty yhdessä pilottikuntien ja Kuntaliiton (linkki casetekstiin)kanssa. Tällä hetkellä pilotoinnit ovat käynnissä myös Saksassa!
Raportit pilotoinnin tulokset yms. CO2 dataa ajoneuvoista tukemaan /Miksi / Kuinka?